About The Program
The MORETHANDINING program is not only our way of thanking our frequent diners but also a serves as a reservation system. It will help you reserve a table in any Kampa Group restaurant and earn points towards interesting rewards from us at the same time.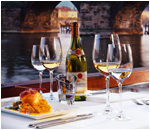 When you call to book a table, simply tell our hostess your name or ID number and we will take care of the rest. The points for your spending will be automatically added to your account.
Each member will receive a member ID, and upon registration a password for access to the reward section of the website. You will also receive a member card, but it is not necessary to bring this with you to the restaurant.
Each member will receive 2 for 1 birthday voucher! You can use this gift with your friends in one of our restaurants. For the voucher you will get second menu for free.
It's easy, and discreet!
JOIN HERE and get EXTRA POINTS
SYSTEM NEWS AND BENEFITS
NEW GENERATION software has given us the following features:
Direct debiting
Pay directly for any bill in the restaurants by deducting MTD points.
In other words, you do not have to go through the head office to have a voucher issued to use in the restaurant, you can just let the server or manager know, that you would e.g. like to use 1000 points against the bill, and CZK 1000 will be deducted from the bill or guest check, and the points will be deducted from your MTD account.
Up to 15 reward points
(15% discount) for eligible customers
We will introduce a new progression to the bonus system with higher bonuses for more loyal, regular or bigger spending customers, respectively. See table.

Real time reservation
MTD members can reserve a table in our restaurants in the net or on the mobile "real time", instant confirmation of reservation.
OTHER MTD-BENEFITS that you might have forgotten!
Free parking
We offer free parking for all our guests. In Kampa Park we have a private parking lot, which also can be used for Hergetova Cihelna guests. For Cihelna guests that prefer to park closer, we offer Blue Zone parking tickets for two hours, free of charge.
Audi Guest service – Limo-service
Our new AUDI A6 is waiting to pick up and bring Morethandining members to and from our restaurants, free of charge. This service is available after 19pm at a distance of Prague within aprox 20 minutes. Please, call Kampa Park for a reservation one day before.
Invitations
As a MTD member, you will receive information about and be invited to our special events from wine tasting, wine pairing dinners, golf tournaments, yearly party, seasonal and special menus and discounts, as well as special offers from our MTD partners, as well as general NEWS!
All you have to do is to sign on here.
| | | | |
| --- | --- | --- | --- |
| Basic | Level 1-5 | 5 points per CZK 100 | 0 pts – 3.999 pts |
| Silver | Level 6-9 | 10 points per CZK 100 | 4.000 pts – 9.999 pts |
| Gold | Level 10-13 | 15 points per CZK 100 | from 10.000 bodý pts |
Basic point value does not change and you will still be use able to your points for the rewards provided by our partners as well as our special offers.
Please note, that if you are on level 6, and have 4000 points and want to use 2000 points on F&B, you will move down to level 4. This means that on the next bill in our restaurant, you will receive only 5 points/CZK 100, versus 10 points/CZK 100, if you make sure that you maintain at least level 6.
Points do not last forever, they expire after 18 months and it is up to you to spend them, before they expire.
For more information please contact: mar...@kampagroup.com